How indebuurt uses WordProof Timestamp to claim ownership of their content
De Persgroep (DPG Media) has protected thousands of articles from her title indebuurt with blockchain using WordProof Timestamp. Read about the problems indebuurt faced and how WordProof Timestamp has helped to overcome them.
DPG Media is the publisher of some of the biggest Dutch outlets, including De Volkskrant, Het Parool and AD. indebuurt is another title in an impressive range of news entities, focussing on local online news.
indebuurt focusses on 30 locations in The Netherlands, reaching millions of visitors per month. Every day, over one hundred new articles are published online. Topics range from local news updates to interviews with city officials.
indebuurt has quality content, which attracts copycats
WordProof Timestamp has automatically protected +100,000 indebuurt articles in the blockchain.
Proof of Ownership
indebuurt now has a blockchain certificate of each article (+100,000 in total), proving ownership at different points in time. This makes it easier to prove they were first and makes it more difficult for copycats to say otherwise.
Warning to Copycats
At the bottom of each article, the Blockchain Certificate link is visible. This is a clear warning to copycats: the content is timestamped in the blockchain, which makes it easier to prove theft by third parties.
Increase of Trust
Not only indebuurt has proof that content X was published at time Y, their visitors do too. indebuurt dares to be held accountable and stands behind her content, which increases their visitors' trust.
Unfortunately, we sometimes see our articles on other platforms. WordProof allows us to easier proof ownership.
Jurgen Smit
Product Owner at indebuurt​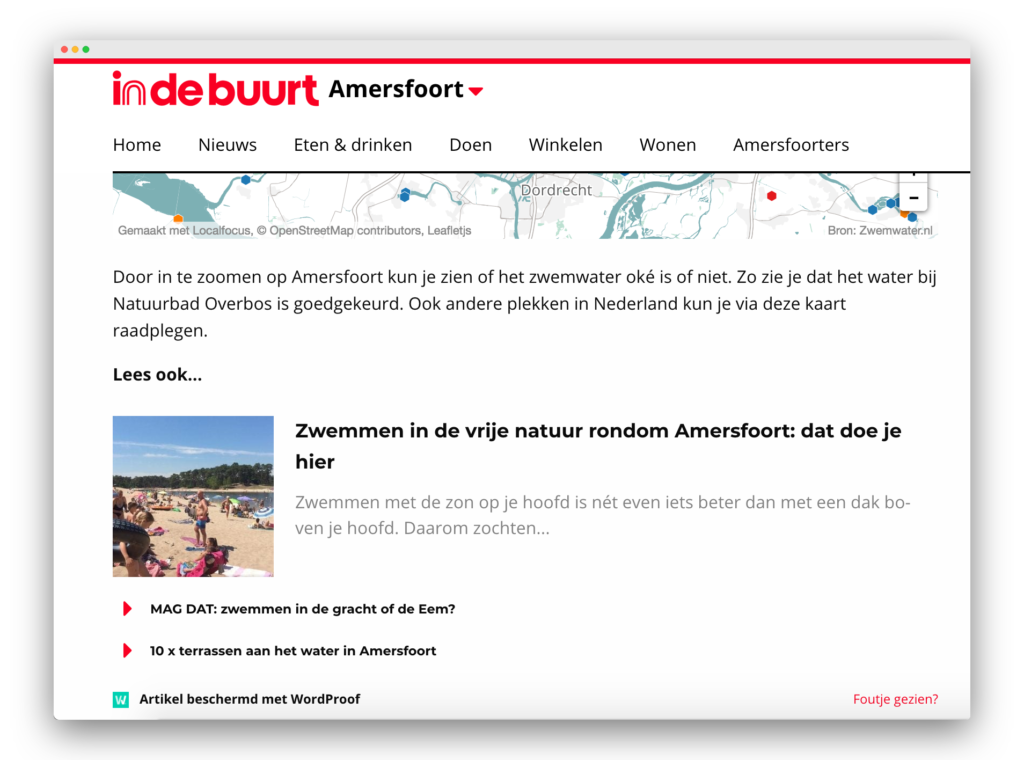 The Article protected with WordProof text is integrated in the design of indebuurt and is accessible for its readers. After clicking on the link, the WordProof certificate opens. Readers can verify when the content was last updated.
Curious what WordProof Timestamp can do for your brand?
Save legal costs and protect your creative work. Get started today.