An update about increased accountability through LinkedIn Identities, plugin announcements for various Content Management Systems which will take WordProof's website coverage to over 78% of all websites powered by Content Management Systems, video guides on how to use WordProof, and a keynote from WordProof founder Sebastiaan van der Lans at Friends of Search Amsterdam!
Identity
After running pilots with several identity partners over the last few years, we are excited to begin rolling out Identity features to the WordProof Timestamp Ecosystem. Our WordPress users will soon be able to connect their WordProof account to a LinkedIn account, marking the first and important step for increased accountability in online publications. The connected Identity will be visible and verifiable in the Timestamp Certificate pop-up.
Plugins for Shopify, Wix and Squarespace
WordProof Timestamp currently offers a plug-and-play solution for WordPress and Drupal websites, as well as an API for custom integrations. The WordProof team is currently working on plugins for Shopify, Wix and Squarespace, representing a big part of the premium CMS market. The WordProof plugin for Shopify will launch first and is expected in Q4 2022. Plugins for Wix and Squarespace are expected to follow in Q1-Q2 2022.
When plugins for these CMSes have been launched, WordProof can be installed in a few clicks on +50% of all websites, or on 78% of the websites using a CMS!
Keynote at Search of Amsterdam
WordProof founder Sebastiaan van der Lans had the opportunity to share our vision of building a Trusted Web at a leading European search conference, Friends of Search. Over 600 professionals from the Search Engine Optimization / Search Engine Advertising industry visited this prestigious event, and many of them attended our keynote. Among the other speakers were leaders from Google and Microsoft thought leaders from the SEO industry.
Watch the keynote below or read the Q&A published prior to Sebastiaan's talk!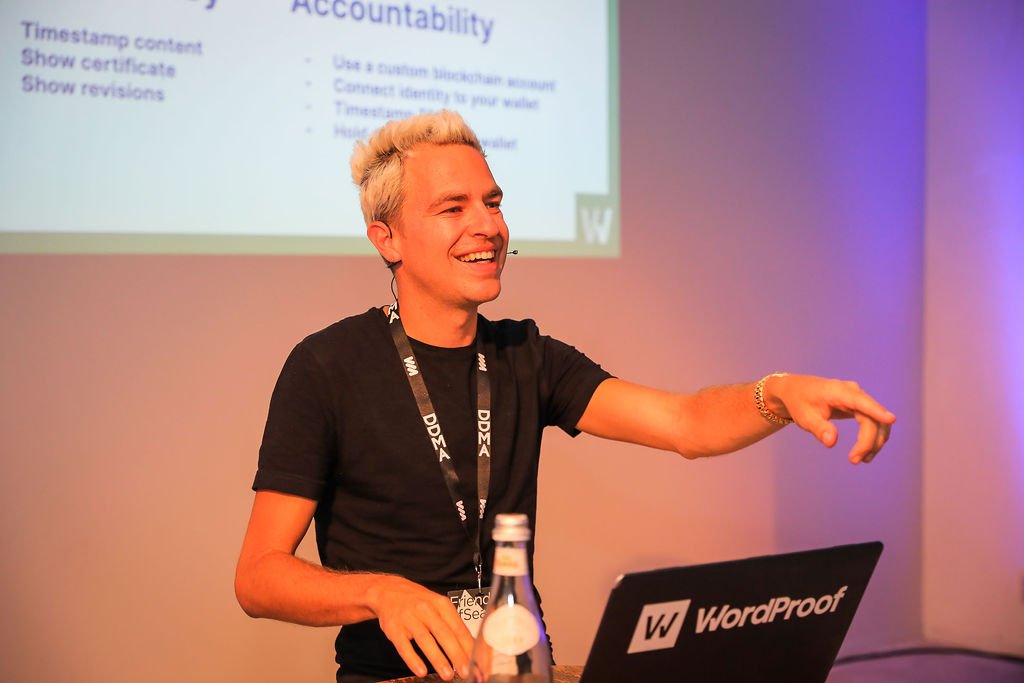 Video Guide: How to set up WordProof Timestamp for WordPress
Sebastiaan recorded a new video showing how you can set up WordProof Timestamp on your WordPress website.
WordProof at Token 2049 in London
Sebastiaan will travel to London for Token 2049. Come and say hello at the EOS NF stand!