As we entered a new decade, it is time to look back on the start of WordProof, the road ahead and everything that has happened during the last few months.
WordProof launched in June 2019, and the WordProof Timestamp product has been in development ever since. The size of the team expanded from 1 to 6, the number of websites using WordProof Timestamp exceeded our expectations, and the interest shown by businesses, individuals and media brands kept on growing.
A lot has happened, but let's review the progress by looking at some numbers!
Infographic – WordProof Six Months from Launch
The following infographic summarises the most important statistics about WordProof Timestamp. With +162k timestamps on the counter at the end of 2019, we can't wait to see what this number will look like at the end of 2020!
New pricing structure: Free timestamps for everyone
When we first launched WordProof Timestamp, it was required to manually create an account on the blockchain, download and configure a wallet, and manually sign each timestamp. This turned out to be too much of a hassle, so we developed an automated service that does all the work automatically in the background.
Now, this service is available for free. Everyone can automatically timestamp up to 10 pieces of content per month, along with several other features. Paid customers can timestamp more pieces of content, get bonus timestamps for existing content and enjoy several other features. We believe this freemium model to benefit both groups the most, while serving as a strong foundation business-wise for such an Open Source blockchain application.
WordProof Timestamp Plans
Have a look at the new WordProof Timestamp plan structure, or head to our pricing page for more information.
Download your Content Certificates
A timestamp proves the existence of content on a website at a moment in time. However, content creators should not have to worry about how to prove this. From now on, it is possible to download your Content Certificates using the My WordProof portal. It includes the input that leads to the hash in the blockchain transaction, which proves the existence of the content on your website at the date and time shown in the PDF. Easy, fast and indisputable.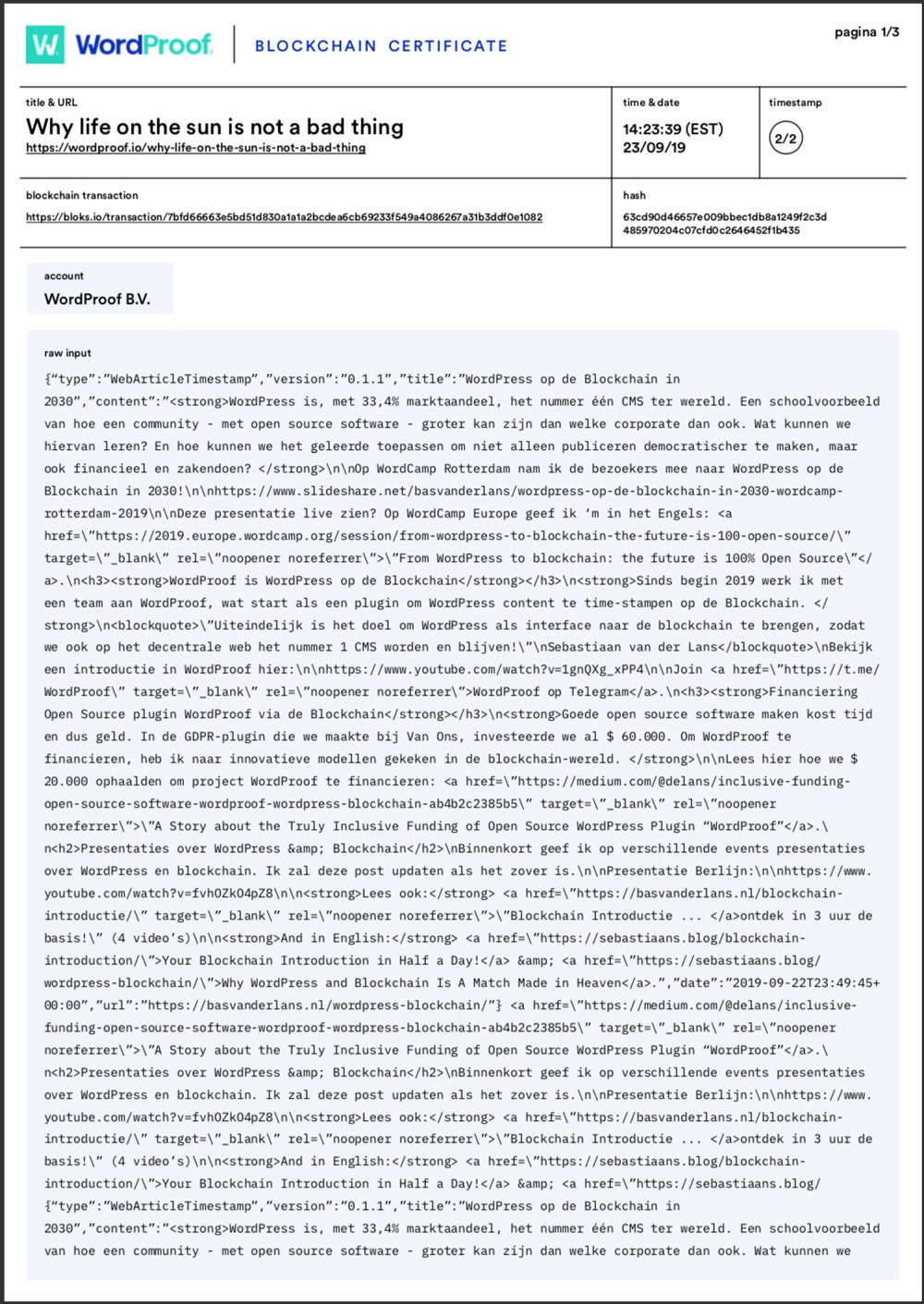 Timestamp meetup – A look into 2020
WordProof founder Sebastiaan van der Lans presented the WordProof vision on how content timestamps have the ability to redefine the web as we know it, bringing back integrity and increasing the overall trustworthiness.
Watch his presentation below for a look into our plans for 2020!
To wind up this first update 2020: thank you so much for being part of the WordProof history. We're looking forward to this new year and decade; the Decade of Open-Source.
Recent publications on WordProof and relevant links: